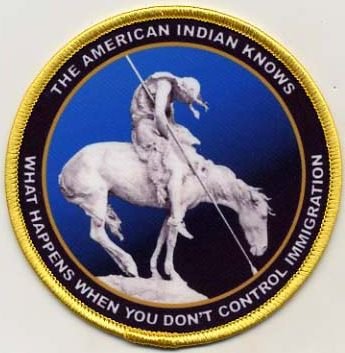 Immigration Patch
"The American Indian Knows What Happens When You Don't Control Immigration"

'Nuff said...
This patch is created in a process called Dye Sublimation to capture greater detail than normal embroidery. It's 3 1/2 inches in diameter with an "iron-on" back and gold edge.
Note: These patches come standard as "Iron-On". I have no experience with this process, so will probably sew mine on. The "iron-on" directions read as follows:
Caution: Test garment to insure that high temperatures will not cause damage to the fabric, especially to synthetics such as nylon. high temperatures for a prolonged period of time will distort the appearance of the emblem.
Due to the variation in temperature and pressure, emblems cannot be applied with a hand iron. 1. Set machine to 360 - 370 degrees (F). 2. Place emblem on garmet for application. 3. Cover emblem with wax paper. 4. Apply pressure for approximately 18 seconds, 40 psi, foam under garment.